5 steps that will help you get into the property market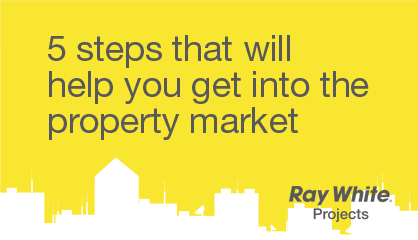 Set Your Goals
To accomplish your property goals, you must firstly establish your end target. Are you wanting a long term investment or a quick money making investment. Break down your end goal and give it a date for when you would like to access any profits and work from there.
Begin to Budget
You need to effectively manage your finances, including your expenses, income and savings. Be careful not to underestimate ongoing property investment costs such as fee's, rates and maintenance. It is crucial they are taken into consideration when purchasing a property so that you can afford to pay any ongoing costs. There are numerous  apps including online banking gadgets that can take the hard work out of budgeting for you.
Be Finance Ready
By seeking pre-approval for a loan, you will have a clear understanding of just how much you can afford. Before doing this, ensure that you check your credit rating or consider reducing your debt or card limit to make this step easier and for it to be a smoother process.
Create Awareness (research)
Be smart and research the market to decide what type of investment fits your requirements and where you should be buying.  Figure out if you're relying on rental returns to cover the loan entirely, or if negatively gearing is better suited for you.
Stay Smart
Think with your head and stay focused, buying your first investment can feel intimidating. This process can be made easier by seeking advice from a local broker too.  Remember that investing is a long term business decision, so think with your head and try to eliminate the emotions.