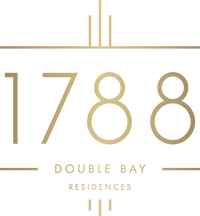 CONSTRUCTION COMPLETE – LIMITED 3 BEDROOM RESIDENCES REMAINING
Introducing Double Bay's most beautiful address. Moments from one of the world's greatest cities, 1788 Residences are designed with the utmost care, inspiration and appeal. Taking their cues from Double Bay's charmed and exclusive surrounds, these residences are a sensation, offering an unprecedented fusion of architecture and place. No expense has been spared in creating the finest luxury living in the village.
Surrounded by sweeping leafy streets, an abundance of parklands lines the harbour from Steyne to Cooper Park, perfect for picnics or a morning stroll by the water. Dotted along the pretty streets and lanes, high-end boutiques stock luxury labels, fine jewellery and gorgeous homewares whilst vibrant cafés, restaurants and eateries animate the corners, and chic wine bars bring life after dark.
A limited number of 3 bedroom residences of uncompromising detail and architectural craftsmanship remain. Ideal for those who wish to downsize from a suburban home.
Photo Gallery
Video Gallery