ART AND GREENERY CONNECT WITH COMMUNITY AT NEW APARTMENT PROJECT THE PLACE ASHFIELD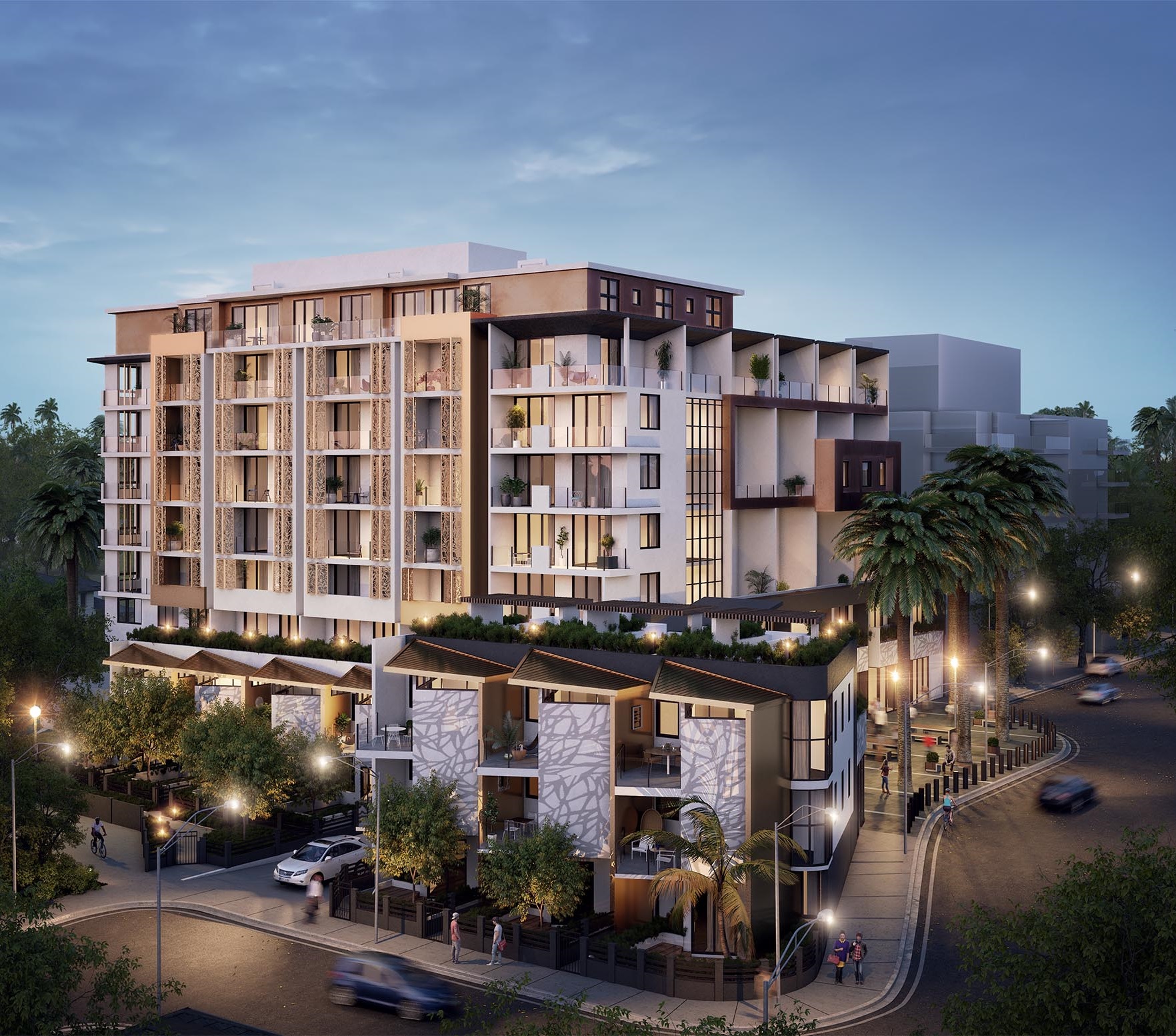 As more Sydney suburbs transform through gentrification and urban renewal, two elements are emerging as more important to the process than ever — art and green space.
A new residential development in Ashfield, 8km from the Sydney CBD, has taken its cues from both aspects to create a garden oasis surrounded by architectural and design innovation.
THE PLACE Ashfield is in Sydney's buzzing inner west, already a covetable postcode with an eclectic blend of historical buildings, lively eateries and stunning urban art.
But it's the proximity to transport, shopping, the Sydney CBD and community amenities that set THE PLACE apart, says Ray White Projects managing director & partner Eddie Mansour.
"With Ashfield train station, Ashfield Mall, a solid medical precinct plus countless cafes and restaurants within a couple of hundred metres — as well as Westfield Burwood only a short drive or train trip — there are not many better placed residential opportunities in Sydney's inner west," Mr Mansour says.
"Because Ashfield is such a modern, multicultural community, we expect THE PLACE will appeal to a wide range of buyers including young professionals, investors, young families, empty-nesters, retirees and of course people who want shopping amenity close by."
Due for completion in early 2019, the project at 7-9 Cavill Avenue is the brainchild of Sydney-based developer Ganghui Pty Ltd, headed by Frank Guo.
Apartments range from studios to one-bedroom and two-bedroom residences.
Mr Guo, whose previous development work includes a massive 96,000sqm mixed-use project on a site of 62,000sqm in Nantong, China, is working on THE PLACE with H3 Architects and builder YTO Construction.
"Mr Guo moved to Australia in 1989 and has a great interest in Sydney's real estate industry, applying his own extensive knowledge and experience to exciting projects such as THE PLACE," Mr Mansour says.
"Both H3 Architects and YTO Construction have a reputation for quality that aligns with Mr Guo's vision to bring his big-development expertise to a boutique residential project."
A lush communal garden with extensive landscaping is the centrepiece of the eight-storey complex and is designed to be a sanctuary from the bustle of the vibrant community.
The building's exterior design showcases form and texture for an overall sophisticated effect.
Cool, smooth finishes are the hallmark of the living areas, kitchens, bathrooms and laundries. Soft wool carpeting ensure the bedrooms are a haven and built-in cabinetry provides smart storage.
A light and bright palette features in the kitchens, which have Caesarstone benchtops, timber-look floor tiles, white polyurethane finish cupboard doors, mirrored splashbacks, Miele gas cooktops, ovens and rangehoods, Fisher & Paykel dishwashers and Smeg microwaves.
Balconies offer views across the district and down to the streetscape below.
THE PLACE's focus on aesthetics is a further connection to the suburb of Ashfield, which is showcasing many notable examples of street murals thanks to an Inner West Council art program.
One of the most recent and well-known, Seminatural by Brad Eastman, is on the corner of Queen Street and Liverpool Road and is a favourite Instagram spot among locals and visitors.
Of the total 91 apartments in the complex, 18 are still available.
Mr Mansour says a new apartment release event will be held on March 17 from 1pm to 3pm in the display suite at 319 Liverpool Road, Ashfield. Food and drinks will be provided and prizes will be awarded on the day.
For more information, visit THE PLACE website or phone 1300 848 105.
PRICES
Studio: $588,000 (50sqm*)
One-bedroom plus multi-purpose room: From $715,000 to $825,000 (79sqm-83sqm*)
Two-bedroom: From $865,000 to $1,035,000 (81sqm-124sqm*)
Strata guide: $400 to $900 per quarter
*total combined internal and external area
DID YOU KNOW?
Ashfield has its own castle. Once known as Ambleside, Ashfield Castle was one of many landmark buildings established in the suburb after the Sydney-Parramatta railway line opened in 1855. As one of only six stations on the line, Ashfield soon found favour with well-heeled Sydneysiders looking for a quieter home away from the central business district, which was already considered too busy.
AC/DC rocker Angus Young and his late brother Malcolm are former students of Ashfield Boys High School. Angus' trademark onstage school-wear was reportedly based on the school's actual uniform.
American biscuit company Peek Freans built a factory on the corner of Parramatta Road and Frederick Street in 1937, adding a clock tower in the 1940s. The company made biscuits there until 1975. The art deco building is now the site of Bunnings Warehouse.