Eastwood's only DA approved development 'Vantage' celebrates with Ground Breaking ceremony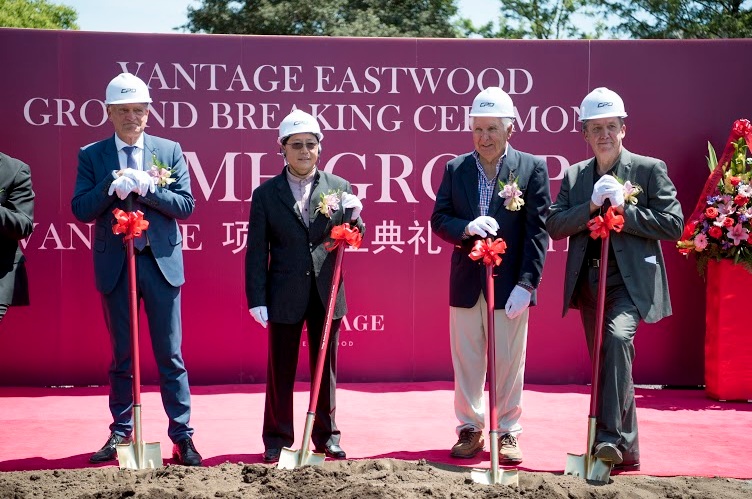 The traditional Ground Breaking ceremony for Eastwood's most anticipated development, 'Vantage' has been celebrated on site at 3-5 Trelawney Street, signalling the commencement of construction with a number of VIP guests in attendance including the Chairman of SHMH Developments Mr. Yundi Hua, Ray White Group Chairman, Brian White and General Manager of City Projects and Developments, Adam Huang.
Marketed by Ray White Projects, and the first Australian project for Development firm SHMH Australia Developments Group, 'Vantage' is Eastwood's only DA approved development site.
Located in the absolute heart of Eastwood and only 200 metres from the train station and surrounding shops, 'Vantage' will offer 57 apartments, and street facing commercial space. Vantage is expected to be completed in early 2017.
Ray White Projects Director Eddie Mansour said over 60 percent of the project has already been sold, with the majority of buyer interest coming from locals rather than off-shore buyers.
"Once the signage went up around the site, we were inundated with buyer enquiry " he said. "We had at least 200 enquiries within a week from the signage with locals wanting to know more about the project."
"Eastwood is an active business hub with speciality Asian food and retail outlets. Vantage is located behind Eastwood public school, which is a highly desired school with many people moving from the north to ensure their children are in the local school catchment zone. It is also very popular with professionals given the close proximity to Chatswood, North Sydney and Sydney CBD" he said.
According to Mr. Jian Yao, "SHMH Australia Developments, founded in 2014, has acquired several significant sites around Sydney," he said, with Eastwood being their first along with sites in Waterloo and Penrith.
"Vantage marks the beginning of SHMH to build quality residential developments in Australia, and an important milestone in stepping into the global market," he told the crowd.
Apartments are being marketed as oversized, with the size of a standard two bedroom apartment above 90sqm internally which is significantly larger than the average Sydney two bedroom apartment which is approximately 70sqm. One bedroom apartments start at $749,000.
According to SHMH Chairman Mr. Hua, 'Vantage' is not a large project for the Shanghai based firm, but shows their capacity and enthusiasm to build quality projects in Australia.