Strong interest in luxe Double Bay project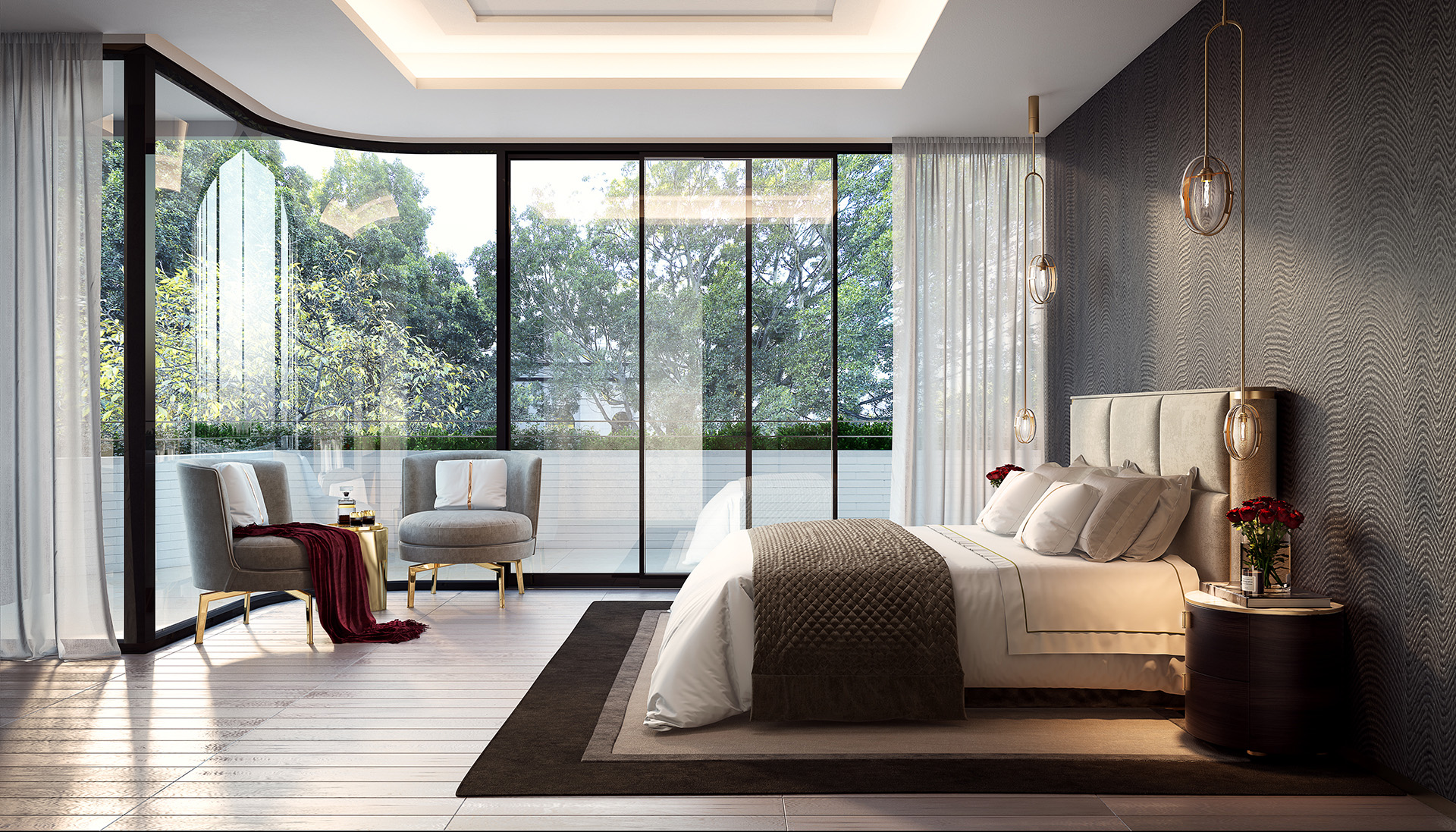 THERE'S no slowdown in the Sydney luxury apartment market if the appetite for the stunning new 1788 luxury project in iconic Double Bay is anything to go by.
The 29-apartment $100 million boutique development on uber hip Cross St, in the blue-chip heart of Double Bay, sits directly across from the Intercontinental Hotel.
Double Bay's famous yacht-dotted bay and tree-lined streets are only a 12 minute ferry ride away to the Sydney CBD.
The five level custom-made residences have attracted discerning buyers from across Sydney and internationally too.
At 1788, understated luxury reigns with horizontal art deco-like brick ribbons wrapping the facade with pale bronze louvres following sinuous lines to create a privacy screen.
Ray White Double Bay director Craig Pontey said empty-nesters loved the new project for its high-end finishes and prime blue-chip location.
"Locals have been crying out for a high-end boutique development like this for years. New developments of this class are few and very far between," Mr Pontey said.
"There's plenty of inventory left with a fantastic selection to choose from in 1br, 2br and 3 bedrooms available if people are on the lookout for a quality apartment or house-like replacement that they can lock up and leave.
"But you never need to leave Double Bay, it's all right here and there's no expense been spared in creating the finest luxury living in our village."
Double Bay is famous the world over for its leafy village vibe with great restaurants yet so close to the city with transport and public transport.
Mr Pontey, who has been selling real estate in the affluent eastern suburbs for almost four decades, said 38 per cent of the project had already been spoken for.
1788 is being developed by high-end developer SJD, who entered the Sydney market seven years ago.
SJD currently has five high-end projects delivered or under construction in Sydney.
Eddie Mansour, head of projects at Ray White in New South Wales, has been working with SJD at its previous development in Lane Cove.
"SJD only use the best materials and fittings. They bought the site in Cross St, Double Bay primarily as they love the high end village vibe. All of SJD projects in Australia are entirely geared towards owner occupiers."
There are 29 apartments in 1788 in Cross St Double Bay which is directly opposite the 140-room Intercontinental Hotel, owned by private equity firm, Shanghai United.
"The buyer of the record one bedroom walked straight out of the Intercontinental Hotel and into the display suite. This project has also seen some high end buyers amalgamate a few apartments to build larger apartments too," Mr Mansour said.
This end of the apartment market remains very strong among affluent Baby Boomers who are deciding to shift from their large family home to an apartment, usually closer to the city.
Mr Mansour said Baby Boomers want ample living space and quality fixtures and fittings, so they can maintain their current lifestyle.
"The two bedrooms are very popular, but with the three bedroom apartments range from $5.2 to $6.9M being essentially a house replacement.
"One of the larger apartments that were amalgamated sold for just under $10 million, and the other sold for just under $14 million.''
"There's been lots of interest locally as it is in the heart of Double Bay, and SJD have so much confidence in 1788 that they have now bought the site next door and have submitted a DA for a  further 21 apartments. They have responded to market demand and will primarily build three and four bedrooms apartments.
"Everyone wants space. And the two bedroom's in 1788 are 30 per cent bigger than most two bedrooms in the market."
This boutique development will always have the drawcard of exclusivity, with some high-end retail traders eyeing off the opportunities there too.
"We also have some  well known restaurateurs considering the opportunity too," Mr Mansour said.
1788 Address – 20-26 Cross St, Double Bay
Display Suite Address – 384 New South Head Road, Double Bay
Opportunity – There's 29 units in total with 62% still available
Sizes:  58sqm to 229sqm
Prices:  1br $1.69M to $1.79M, 2br $3.5M to $4.3M, 3br $5.2M to $6.9M
Penthouse and sub-penthouse prices on application
Building works: Early works have commenced with completion expected late 2019/early 2020.
Sales Enquiries: Ray White Double Bay director Craig Pontey 0414 404 040 and Ray White Projects NSW director Eddie Mansour 0424 251 259.